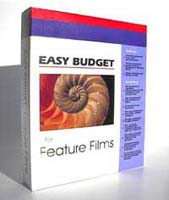 EASY BUDGET FOR FEATURE FILMS
This is the budget to use for estimating the cost of a feature-length film and presenting those figures to the people who will be financing, insuring or distributing the production.

Fine-tuned and perfected using 30+ years of actual production experience, it's a comprehensive check list of all the necessary expenses from beginning to end. It's also a versatile tool for fine tuning and adjusting a film budget. EASY BUDGET can be used to estimate budgets ranging from next-to-nothing to hundreds of millions of dollars.
Click here to see a sample page of Easy Budget for Feature Films